---
JUSTIN BIEBER & SELENA GOMEZ : MARIAH CAREY REVEALED HER TWINS: PEPSI PINK ?
JUSTIN BIEBER AND SELENA GOMEZ  PDA  DURING A HOCKEY GAME!
 

Justin Bieber and Selena Gomez were in a VIP box for the Montreal Canadiens vs. Toronto Maple Leafs hockey game in Montreal over the weekend.

They wore jerseys and were caught making out during the game.

Besides Justin scoring, Montreal also beat Toronto 5-4 in overtime.

 

MARIAH CAREY REVEALED HER TWINS, OPENED UP ABOUT HER "TROUBLED" PREGNANCY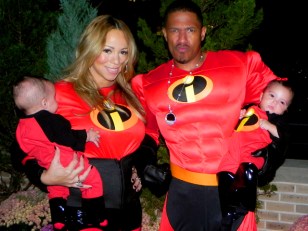 Mariah Carey and her husband Nick Cannon revealed their twins and talked about their trying pregnancy to Barbara Walters on Friday's "20/20".

Moroccan and Monroe—or Roc and Roe for short—are six months old.

Mariah thinks they already have their parents' genes, saying: "I will say that they really respond to music."

For their world debut, Mariah dressed Moroccan in an oversize camel-colored suit. Monroe was in white gown and matching hair bow.

Mariah and Nick admitted the road to their kids wasn't an easy one. After a miscarriage early in their marriage she Mariah started fertility treatments. Then she struggled with a tough pregnancy that became harder towards the end.

She said: "I had serious back problems. I was afraid I wasn't going to be able to walk properly again. It was a huge strain."

The twins were born through C-section on Nick and Mariah's three-year anniversary. Nick Cannon was playing DJ in the delivery room by playing a live version of Mariah's own "Fantasy."

Mariah said: "The only reason I wanted it to be the live version is because I wanted them to hear the applause upon entering the world."

The couple has also launched a website called DemBabies.com, which is an online photo album of the twins. Highlights include a shot of Mariah cradling one in the swimming pool, Moroccan wearing a pair of shades and another pic of the four of them dressed up as the superhero family from "The Incredibles."

As for the future, Nick wants to have more kids but Mariah says she's done.

 

INTRODUCING... "PEPSI PINK", A STRAWBERRY-MILK FLAVORED COLA







Here comes Pepsi Pink, a strawberry-milk flavored soda.

The new Pepsi drink is being rolled out in Japan on November 8th.

According to Pepsi, the new Pepsi Pink is "bursting with the rich aroma and refreshing taste of strawberry milk".

No word on whether it will be released around the globe.