THIS IS SUPPOSED TO BE A WAX FIG OF THE BIEBS




Justin Bieber was 'immortalized' (?) with a Justin Bieber Wax Figure at the Madrid Wax Museum.

 

ZAC EFRON & VANESSA HUDGENS MAY BE RELIVING THEIR 'HIGH SCHOOL' DAYS... SMOOCH.



Witnesses say Zac Efron and Vanessa Hudgens acted like more than friends at a Friday evening gathering (SHG's Eden Hollywood opening)-- they were "constantly touching and kissing each other."

The two hit the dance floor: "Vanessa was bopping around with her arms up while Zac had his hands all over her. Vanessa had a smile on from ear to ear and the two were inseparable after that."
---
LISTEN: OCT. 28th FNL REPORTÂ 
---
 

5 HOTTEST COUPLES HALLOWEEN COSTUMES

According to The Nest com, these are the top pop culture costumes for 2011:

1. Lady Gaga and Jo Calderone

Looking to dress up like the pop diva and her male alter-ego? Look no further than a homemade Lady Gaga and Jo Calderone costume. Because Gaga's always rocking the extreme looks and this year was no different - just get creative!

2. Kim Kardashian and Kris Humphries

Oh, the Kardashians - the media mogul family we love to love (and hate). After "America's Royal Wedding," couples will definitely be dressing up like Kim and Kris this year.

3. Kate Middleton and Prince William

The future King and Queen of England entered our hearts this year and probably became more famous on our side of the pond than on their own. While getting their wedding look may be a bit difficult, their engagement shoot should be a breeze.

4. Kat Von D and Jesse James

This rocker duo has been in the news quite a bit this year and we predict that many replicate Jesse and Kats will be running around this Halloween.

5. Anthony Weiner and Cell Phone

This year's favorite political scandal involved cell phone pictures and while this technically isn't a couple's costume – Weiner couldn't have gotten where he is today without the phone. Don a suit and head to the local party store for a cell phone costume.
---
LISTEN: BUFFALO BILLS LB ARTHUR MOATS
---
 

BEYONCE MAY (OR MAY NOT) BE HAVING A BABY GIRL



Sources say Beyoncé is expecting a girl.

An insider tells In Touch: "Beyoncé is thrilled she's having a daughter.... She and her mother are so close, and she's wanted to have that relationship with her own child."

 

15 MINUTES OF EXERCISE BURNS ONE 'TREAT'

A fitness trainer for the American Council on Exercise said the average amount of popular candy -- one Almond Joy Snack Size Bar, one Reese's Peanut Butter Cup or six Tootsie Rolls -- is about 100 calories.

To burn off the calories of one Halloween treat:

-- Dance for 20 minutes.

-- Jog in place for 12 minutes.

-- 15 minutes of intense weight training burns approximately 100 calories. These "tuned up" muscles will keep burning more calories even after the workout is over.

-- Bike for 10 minutes at 12-14 mph.

-- Play a virtual sport or exercise games.

-- Walk for about 15 minutes.

-- Bounce on a trampoline for 27 minutes to tone legs, butt and abs.

-- Wax your car for 20 minutes.

-- Shop at the mall for 41 minutes.

-- Dig, rake, plant and weed in the garden for 15 minutes.
---
 

NICKI MINAJ IS THE MOST SEARCHED PERSON FOR HALLOWEEN THIS YEAR


Nicki Minaj has become the person people most want to be for Halloween this year. Nicki is Google's top searched Halloween costume.

Nicki is known for her colorful wigs and over-the-top outfits. She's near the top of the list of most-searched Halloween costumes, with "Playboy Bunny", "Black Swan", and "Angry Birds" being the only costumes above her.

There aren't many actual Nicki Minaj costumes but there are websites and online video tutorials on how to become her.

7 PHRASES YOU SHOULD NEVER USE AT WORK, OR ANYWHERE ELSE

1. When--This is a filthy word when it comes to improving your life. It sounds like this: "When I lose 10 pounds I'll start dating again. When I'm a little older I'll go for that promotion. When I complete my degree I'll start that side-business." Most of the time, "whens" just don't happen, or if they do, they take so long that you've forgotten what it was you wanted in the first place. "When" is rarely necessary, but just to be sure ask yourself: "Would it be illegal, unethical or immoral to start now?" If the answer is no, don't wait for when.

2. Someday--There's nothing wrong with having a "someday" list of things you want to do and places you want to go, but when you find that your "today" list is empty, you'd best start moving some of your future goals into the present. Someday is such a deceptive word. It makes you feel good by thinking you'll someday achieve something, but months, years, and even decades can pass and you might find that your someday is still a long way away.

3. Willpower--Imagine willpower doesn't exist. That's step number one to a better future. The problem with willpower is that most people think they have it or they don't. They'll say: "Well, of course I ordered the double-fudge sundae. What did you expect from someone who doesn't have any willpower?" Your genes determine the color of your eyes, NOT whether you order dessert.

4. Want/Wish/Hope--Stop wanting, wishing, and hoping to do something or for something to happen. If you want more control over your fate, you need to take more responsibility for your actions and their outcomes. Don't sit around expecting change to arrive in your mailbox. It takes a decision and it takes action, not wishful thinking.

5. Not good enough--How can a phrase with "good" in it be so bad? These three simple words will keep you from hitting the publish button, making that important phone call, or trying out for the audition. Flip it around. Instead of "This isn't good enough", change it to "It's not perfect but it's good enough." Don't wait for everything to be perfect. Just put it out there and see what happens.

6. I don't have the time--The same guy who doesn't have time to go to the gym with you after work will always be able to free up an entire evening if you give him free basketball tickets. It might feel like you don't have time, but with some focus, you can free up 20 minutes to two hours every night to work on those actions that will help you create a better life.

7. It's not the right time--If not now, when? If you are waiting for the stars to align, it's not going to happen. Instead of waiting for the right time, shift your thinking and look for the least worst time to get started.
---
LISTEN: BUFFALO BILLS SAFETY BRYAN SCOTT
---
 

JENNIFER ANISTON, WILL SMITH AND.... TINA FEY??

According to a survey of 2,000 women and men, conducted by Fitness mag and omg! from Yahoo!, the most admired bodies belong to Jennifer Aniston and Will Smith.

Most women want a body like Aniston's and most men want their mates to have her shape.  Smith's physique is the type that 37% of guys want most, and 37% of women wish their husbands or boyfriends had Will's build.

The results appear in the November/December 2011 issue of Fitness, on newsstands today.

What body party do most women want?

1. Jennifer Aniston's abs 65 %
2. Cameron Diaz's arms 12 %
3. Blake Lively's legs 11 %
4. Pippa Middleton's butt 7 %
5. Christina Hendricks's chest 5 %

Hottest Celeb Couple

1. David & Victoria Beckham 34%
2. Cameron Diaz & Alex Rodriquez 24%
3. Gisele & Tom Brady 15%
4. Fergie & Josh Duhamel 15%
5. Kim Kardashian & Kris Humphries 13%

Best Female Celebrity Body Over 40

1. Jennifer Aniston 25%
2. Halle Berry 24%
3. Jennifer Lopez 22%
4. Demi Moore 19%
5. Gwen Stefani 6%
6. Courteney Cox 4 %

Best Male Celebrity Body Over 40

1. Brad Pitt 29%
2. Will Smith 24%
3. Hugh Jackman 23%
4. George Clooney 17%
5. Tom Hanks 4 %
6. Jon Hamm 3 %

Hottest comedian body

Tina Fey 28%
Chelsea Handler 23%
Kathy Griffin 15%
Russell Brand 14%
Jimmy Fallon 11%
Jon Stewart 9%

https://www.facebook.com/fitnessmag


---
---
 
JUSTIN BIEBER AND SELENA GOMEZÂ  PDAÂ  DURING A HOCKEY GAME!
 

Justin Bieber and Selena Gomez were in a VIP box for the Montreal Canadiens vs. Toronto Maple Leafs hockey game in Montreal over the weekend.

They wore jerseys and were caught making out during the game.

Besides Justin scoring, Montreal also beat Toronto 5-4 in overtime.

 

MARIAH CAREY REVEALED HER TWINS, OPENED UP ABOUT HER "TROUBLED" PREGNANCY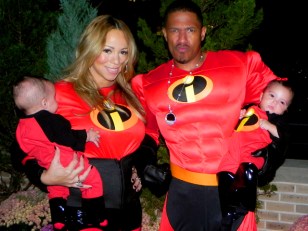 Mariah Carey and her husband Nick Cannon revealed their twins and talked about their trying pregnancy to Barbara Walters on Friday's "20/20".

Moroccan and Monroe—or Roc and Roe for short—are six months old.

Mariah thinks they already have their parents' genes, saying: "I will say that they really respond to music."

For their world debut, Mariah dressed Moroccan in an oversize camel-colored suit. Monroe was in white gown and matching hair bow.

Mariah and Nick admitted the road to their kids wasn't an easy one. After a miscarriage early in their marriage she Mariah started fertility treatments. Then she struggled with a tough pregnancy that became harder towards the end.

She said: "I had serious back problems. I was afraid I wasn't going to be able to walk properly again. It was a huge strain."

The twins were born through C-section on Nick and Mariah's three-year anniversary. Nick Cannon was playing DJ in the delivery room by playing a live version of Mariah's own "Fantasy."

Mariah said: "The only reason I wanted it to be the live version is because I wanted them to hear the applause upon entering the world."

The couple has also launched a website called DemBabies.com, which is an online photo album of the twins. Highlights include a shot of Mariah cradling one in the swimming pool, Moroccan wearing a pair of shades and another pic of the four of them dressed up as the superhero family from "The Incredibles."

As for the future, Nick wants to have more kids but Mariah says she's done.

 

INTRODUCING... "PEPSI PINK", A STRAWBERRY-MILK FLAVORED COLA







Here comes Pepsi Pink, a strawberry-milk flavored soda.

The new Pepsi drink is being rolled out in Japan on November 8th.

According to Pepsi, the new Pepsi Pink is "bursting with the rich aroma and refreshing taste of strawberry milk".

No word on whether it will be released around the globe.
---
LISTEN: THE FRAY INTERVIEW
---